Part 2 | The game-changing feature
If you missed the first part of the announcement click here.
WODProof Rowing Challenge Register here.
In every Open or any other online event, at least one workout includes rowing.
There are two problems with these workouts from a video reviewing perspective:
1) recording angle: You can't choose an optimal way to record the range of motion (Open 19.1 and the wallballs) while the rower screen is visible all the time. Usually the camera is just very close to the rower screen, but it hurts the visibility of other parts of the workout.
2) video reviews are complicated:
2.1 Not all the mobiles really catch the screen in high quality, so it's hard/impossible to read the numbers.
2.2 The best solution in 20.5 was submitting 2 videos…
It is more complicated for video review and might take video review teams twice as long to review each video.
Also, the athlete needs to make sure he/she has 2 mobile devices with enough free space; in short, the potential for mistakes increased.
Wilson Pak, Sanctional Director of the MACC: "Our team is excited to integrate the new feature of the WODProof App. It will provide valuable real time data of the athlete's performance, and this will allow the MACC online qualifier to be more accurate and comprehensive".
3) Rowing/bike videos are impossible to analyze and the most boring to watch.
John Singleton, The Progrm Founder and Headcoach to WODProof: "There's nothing more boring than watching someone on a machine not knowing what is happening".
Thinking about these 3 problems, and our 3 core values, we took it to the next level. Again.
WODProof's new revolutionary feature allows you to live-stream the calories, meters and pace from every C2 PM5 monitor (on a rower, ski, bike) to the video in real-time (wireless, no cables are needed).
John Singleton:"This is a game-changing feature for both: athletes and event managers".
This is the best way to show the athlete's progress during any official online qualifier recording.
This is the most accurate and reliable way that exists today, and there's no need to record the same workout using two different cameras.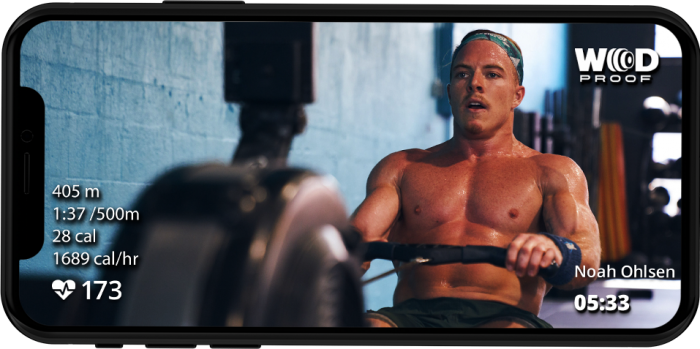 To make sure we know that the specific C2 device is connected with your WODProof app, we will not need to change the way we used to record our online qualifiers. As we do with weights on the barbell, wall balls or box height, at the beginning of the workout (before activating the timer) or after the workout ends, the athlete needs to simply show that the stats on the rower screen are the same stats as displayed on WODProof app. Try it and see how accurate and smooth that is.
We made sure that during a specific recording, from 00:00 to end, WODProof doesn't let any other device connect and replace a paired device.
Why now? Good question.
WODProof had this feature ready a few months ago, and we planned to wait for the next Open to announce it.
1)The new worldwide situation changed everything and shuffled the cards.
More and more events announced they are going to make their planned, postponed, on-site event, to an online platform. And, one of the principal concerns in doing so, is integrity.
Michael Huynh, Competition Corner Founder: "We rely on the trust and integrity of our community to post honest scores, but the honor system has its limitations. While there are multiple layers of validation in play to ensure Athlete's earn their rank, there are still gaps that still need and are being solved. WODProof is innovating in closing that gap by combining visuals and data to help tell the story of an athlete's performance."
WODProof is here to say, we've got your back. Keep planning your best ever online event, and we'll take care of providing your athletes with a platform that promotes integrity.
Roger Nillson, Sanctional Director of the NCC:"Getting the data from the C2 monitor into the WODProof videos makes it so much easier for the event organizers and the athletes. Thank you for solving this problem for us".
2) A lot of professional athletes don't know what is going on with the Games' structure or schedule this year. They train for the unknown and they should be in "always prepared" mode. Most of them have a C2 rower, and even bike or ski, and they deserve a solution that could help them to analyze their performance or send it to their coach that can't be with them now since social distance is required.
WODProof is proud to announce that:
a) Every athlete who got an invite to the 2020 CrossFit® Games is welcome to send us an email or a message on any of our social media channels, and he/she will get our PRO Package and this new feature for free as a support from us.
b)Each one of the sanctionals who supported WODProof GO timestamp last year will get the new feature available for their registered athletes for free during the online qualifier/event this year. Free for the event, and free for the athletes.
3) The pandemic introduced WODProof to many new athletes, outside of the CrossFit® world.
People who want to stay active, engaged with other athletes, or even other professional athletes.
For example, the rowing community. From people who have a C2 machine at home, to professional rowers that now can not train with their coaches anymore. Numbers and graphs are great, but allowing your coach to watch your technique execution in realtime is a complement feature to every coach who started coaching remotely for the very first time recently.
WODProof is proud to extend itself to welcome the entire rowing community as we celebrate this new change.
Greg Hammond, "Concept2 Marketing team", managed WZA "Pace Race" event: "As a CrossFitter and someone who uses our Concept2 ergs daily, I see WODProof as filling a need to get personal scores and outputs directly from our PM5 monitors embedded into a video. This will be a useful tool for both competition as well as a way for coaches to evaluate technique while seeing work output".
Welcome to the first WODProof Rowing Challenge (WPRC).
Connecting rowers worldwide, allowing them to enjoy the excitement of competing, again, in a virtual platform that offers the closest possible feel to a live, on-site competition. Register here.
WODProof community worldwide is welcome to start using the new feature now,
and get a 30-day free trial.
How to connect your WODProof App and C2 PM5 monitor watch now